The word was written as clear as day in sunny yellow paint. The message was a little murkier.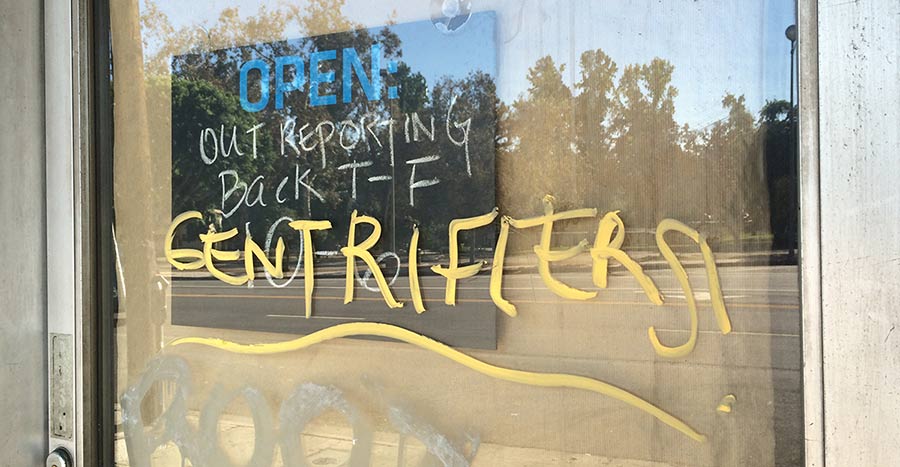 That word was painted on the door of Marketplace's storefront in a historic Los Angeles neighborhood called Highland Park. Since August, the space has been occupied by four reporters and producers who work for the show's Wealth & Poverty Desk. The little storefront is just a few miles from Marketplace's studios in downtown Los Angeles, but the bureau was opened to take on a very special assignment: getting a street's eye view of gentrification in progress. You see, Highland Park is changing, and fast.

York Boulevard – one of two major commercial corridors in this neighborhood – has been something like ground zero for gentrification in Highland Park. The empty storefronts and 99 cent stores are being replaced by vegan donut shops and yoga studios. And more of the same is happening on Figueroa Street, the other high-traffic zone of Highland Park. Fig is where our bureau is. Although, our block hasn't really tipped yet; it's not fancy. Our neighbors – a tattoo shop, a pet groomer, an appliance store, a hair salon – are all long-time residents. Whoever tagged us with the word "Gentrifiers!" breezed right by the windows and doors of those businesses before sidling up to ours and whipping out a paintbrush.
What's going on in Highland Park is illustrative of the kinds of demographic and economic changes happening in cities nationwide.  People tend to have "this obsessive focus on who is moving in and who is moving out," says Elvin Wyly, a geographer at the University of British Columbia.  "It becomes a question of who are the gentrifiers? Are they nice people? Do they have good intentions? And that's not what matters.  Gentrifiers can be nice or not nice.  That's less important than the process."
As a process, gentrification is driven by deeper forces – structural changes in our economy, trends like the widening gap between people who have access to money and people who don't.  When a place gentrifies, these markers of inequality are visible on the landscapes of older, poorer parts of a city that attract big pots of investment money.  The pursuit of profit also drives gentrification.  And, Wyly adds, cheap real estate with lots of potential attracts "something newer and more upscale at that location. Fortunes can be made."
Let's take a look at how some residents of Highland Park see their community being transformed.
Vidal Reyna is a waiter at El Arco Iris, one of Highland Park's oldest Mexican restaurants, owned by his wife's family.  He grew up here.  He says the moment he understood that his neighborhood was becoming a different place happened on a drive with his father.  Reyna recalls, "He turns around and tells me in Spanish, 'Hay muchos gueros mal vestidos por aqui.'"  Loosely translated, that means "around here, there are a lot of badly dressed white people."  Reyna has also taken note of the crackdown on gang activity by local law enforcement and property values going up – something that benefits his family's small real estate portfolio.
Marilyn Miller
moved to Highland Park in the 1990s when it was "affordable."  She says, "Now that we're the hottest little neighborhood and all these developers and buyers and people are coming in, it's changing," she says.  "When we moved in, it was predominately Spanish-speaking."  Miller describes the older businesses of Highland Park as being "very utilitarian," the perfect complements to "a common sense, working people's neighborhood."  She adds, " Now, like along York, we're getting these businesses.  Now we have health clubs and now we have coffee shops and now we have outdoor dining and now we have vintage clothing.  That kind of stuff is coming."
Jackie Martinez grew up in Highland Park and her parents still live here.  When she tried to buy the house across the street from theirs, she was quickly outbid by a real estate investor with cash in-hand.  "People around here, growing up, can't do that," she laments about the competition for housing in her neighborhood.
Miguel Olivares says, "It just looks different, even the dogs being walked down the street or the poop being left by the dogs being walked down the street.  Poodle poop is definitely different than Chihuahua poop."
Marina Bellizzi grew up in Highland Park. She graduated from Franklin, one of the local high schools, then moved just a few miles away to attend Occidental College in neighboring Eagle Rock. In the few short years between high school and college, her perspective of the neighborhood changed. "When I was younger, going to Franklin High School was something to be embarrassed of.  We had ugly cheerleaders, we had pregnant teenagers, we had unsuccessful teachers.  So, there was a lot of shame that was thrown at going to my high school or even just living in this area.  Even young people from it would make fun of it.  There wasn't a lot of pride, I guess I would say," Bellizzi says.  "Now I see it differently, like the neighborhood's changing and it's being perceived as this positive place but for me to readjust what my preconceived notions were would be difficult."
In addition to investors and new kinds of residents, dozens of new businesses have moved into Highland Park.  One, on Figueroa Street, is a vegan-friendly brunch and bakery spot called Kitchen Mouse.  The restaurant's giant windows, glossy white subway tiles and exposed brick are a far cry from the décor of the previous tenant in this space: a quick cash loan place that specialized in car title loans. Erica Daking is the owner of Kitchen Mouse and she worries some about how she will be perceived in the neighborhood.  While noticing that another new business nearby had been tagged with the phrase "bad for the community," she thought, "Are we going to get that kind of reaction? And you understand and at the same time it makes you feel so unwelcome."

We did not come to Highland Park to gentrify it.  We came to document the changes taking place here as a result of more wealth moving into the neighborhood.  But, as outsiders embedding ourselves in a community – is it possible to do one without the other? The person who painted our door likely thinks not, but we don't have the answer.  We are definitely now on record as a part of the change happening here, but neighborhoods are almost always changing.  People move in, people move out.  Areas get safer, houses deteriorate.  So if communities are always in some state of flux, why are some changes easier to see or more controversial than others?
When people talk to us about gentrification, we hear about coffee shops, flipped houses, paved streets, bike lanes, more dogs, new parks, higher prices, hipsters.  Those are very visible elements of change.  It's the invisible elements – unseen economic forces that urge a community into transition – that also interest Marketplace.  We're here to uncover those and place them under a microscope to better understand why it's become unaffordable for so many of us to live where we do.
More than 62,000 people live in the four-square-mile zip code area that encompasses Highland Park.
The median household income is around $50,000, and 17 percent of its residents live below the poverty line.